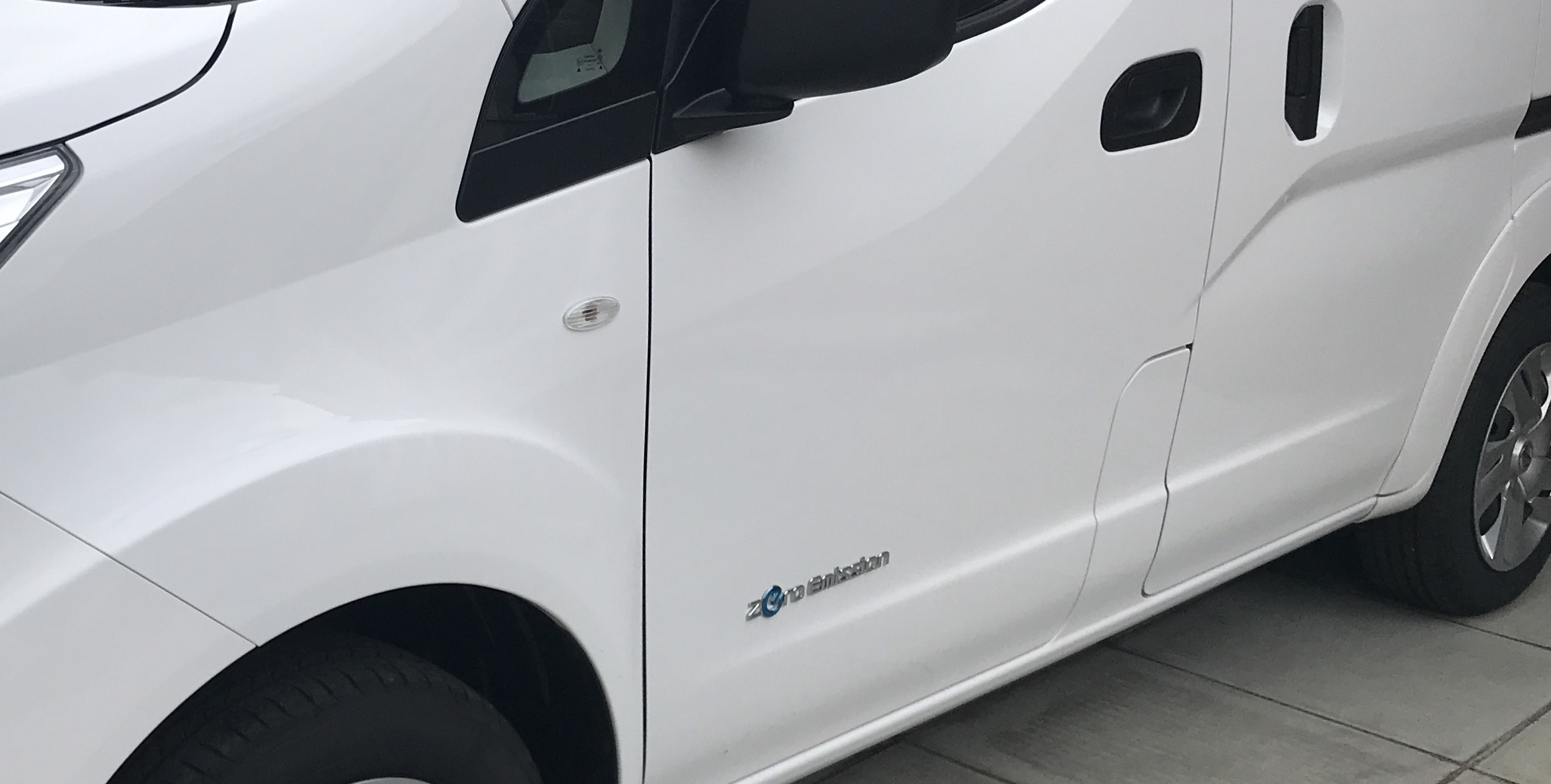 The journey towards electrification for our transportation has begun. The first electric EV vehicle to join the family is the NISSAN ENV-200, taking the place of a diesel van (ICE – Internal Combustion Engine). After looking at a range of vehicles it was the one that ticked the boxes at the current moment in time. The boxes being a combination of the following attributes:
battery size / range – 40 kWh (38 usable) / 124 and 187 miles** (WLTP City and Combined cycle)
vehicle body shape – box shaped
reliability and guarantee – 5 year vehicle 60000 miles / 8 year battery 100000 miles
performance – 80kW (107hp)
The first 7 days of driving. 
After several days of driving the vehicle is has emerged that there will definetely be more adoption of pure EV vehicles. It's like comparing a noisy piece of equipment to a silent one. Once you go silent, it becomes very difficult to go back. Similarly the transmission is automatic whereas the previous was manual. Any product that simplifies on previous methods tends to gain mass adoption over time.
The vehicle we have is currently charged by 3 pin socket until a suitable charge point is installed. The energy is currently provided by Octopus Energy (Octopus GO Tariff). If you would like to join Octopus Energy use the myboiler family referral link. https://share.octopus.energy/showy-macaw-750 . You will receive £50 as well as the myboiler family receiving £50. More importantly you will be on an innovative platform.
It does take a little getting used to, not having to go to a fuel station to fill up and at the same time also having to plug in to a power point usually overnight, just to make sure it is topped up and ready for any longer journeys. If you have a very high amount of travelling per day, then an EV may not quite be able to meet demands unless you are able to take charging breaks of approx 40 minutes for every 100 miles or thereabouts (dependent on type of driving ie motorway or city)
Change of habits.
The limitations of an EV both in terms of capital costs, running costs and range limitations means that you may have to be much more proactive in grouping your jobs together such that most of your jobs are in one location. This should be the case really even with a normal combustion engine vehicle, however as we are able to fill up quickly most people tend to not always be careful of planning.
This does not apply to large businesses that have planning systems in place. On this topic, it should be noted, with the level of data some of these planning systems have, it could be a very wise investment to upgrade some of the vehicles to electric.
Running costs
Based on using the Octopus Go tariff of 0.05p/kWh between 12.30am and 4.30am, the approximate average running cost per mile is 1.72 p. As we also have a solar array and access to free charging at various points, this average comes down much further in the order of 1p per mile or less. Even at peak charging costs based on fast charging at 35p per kWh this would equate to 12 p/mile which is the similar as an ICE van. Most places have a cost of approx 15p per kWh so this would equate to approx 5.16p/mile. So running costs on average are much lower than ICE vehicles.
Congestion charge is exempt until 2025, however a £10 annual registration fee is required. That's a saving based on the new charge of £15 per day. Road tax currently is exempt. Annual service is approx £60-£75.
Conclusion
For most individuals and businesses that fit the profile of average driving, an electric vehicle more than meets the needs of day to day travelling. Aside from some of the the higher upfront costs, over the life of the vehicle, an electric vehicle works out consistently less long term.
On the whole the increased capital costs are expected to be outweighed by the savings from long term running costs, costs of replacement ICE parts and maintenance. Also as the penalties for running a CO2 emmitting vehicle will further increase the costs of an ICE vehicle.
Should you decide you will like to take the next step into going the EV route, and would like more first hand information, feel free to contact me (https://twitter.com/jkanbi) or the company (https://twitter.com/myboiler) using Twitter.