Nest Hello Doorbell
The Nest Hello Doorbell is a new addition to the Nest Family. This door bell has the following features:
HD Video
Night Vision
HDR
160 degrees field of view
Quiet Time
Installation Tips
– Make sure to weather proof the doorbell. Although the unit itself is sealed, preventing water reaching the wire terminals at the back will prevent water from eventually corroding the wires.
– Creating a mini cavity in solid walls using a small section of plastic pipe will help conceal the excess wires inside, so that you can maintain the bell should you require.
Bare wire sticking out. In this instance a networking cable was used. You can even use a 2 core, 4 core or 6 core wire.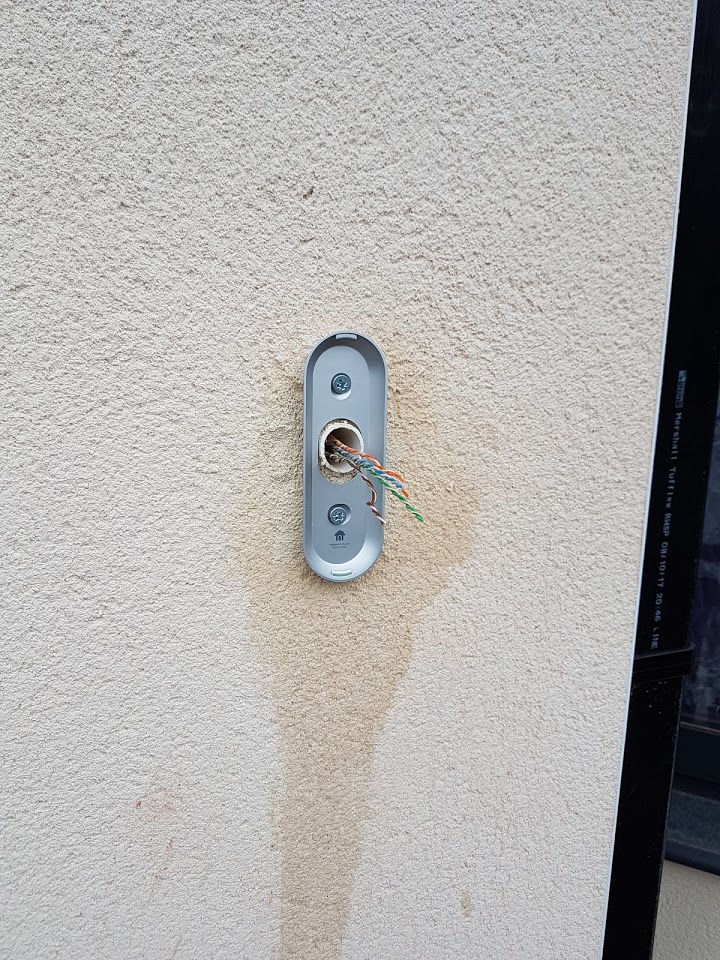 A small cavity was created. Then a small section of overflow pipe was inserted to create a small cavity for the wires to be pushed back into. The gaps were then sand cemented. The overflow pipe was sticking out from the wall by approx 2mm so that is could be sealed using mastic for a watertight seal between the backplate and the wall.
Finally after connecting the wires, the Nest Hello Doorbell was clicked into place.
Compatible Transformer
https://www.ebay.co.uk/itm/273539746524
BRITISH GENERAL 8-24V 8 VA BELL TRANSFORMER MODULE
Compatible Chimes
Grothe Läutewerk LTW 1171A 24V AC
Honeywell / Friedland D107 8-16V (at 16V)
Honeywell / Friedland D113 8-16V (at 16v)
Honeywell / Friedland D117 8-16V (at 16v)
Honeywell / Friedland D126 8-16V (at 16v)
Honeywell / Friedland D128 8-16V (at 16v)
Honeywell / Friedland D142 8-16V (at 16v)
Honeywell / Friedland D143 8-16V (at 16v)
Honeywell / Friedland D230 8-16V (at 16v)
Honeywell / Friedland D239 8-16V (at 16v)
[adinserter name="Adsense Myboiler Responsive"]